SQO-OSS
Speaker: Paul Adams
In a world where Open Source projects compete for the scarce resources of users and developers, how /does/ a product get ahead? Ultimately by being of better quality, we'd hope. Quality observance within any software engineering effort is crucial to the long-term viability of the final product.
Within KDE, the English Breakfast Network is a great tool for assessing certain crucial aspects of codebase quality /after/ the fact. But what about quicker feedback? Or other data sources: mailing lists for example? Since September 2006 I have been working with KDE (esp. Sebastian Kügler and Adriaan de Groot) on the Software Quality Observatory for Open Source Software, and EC-funded research and development project designed to answer such questions.
The SQO-OSS (pronounced "squash" apparently) project aims to deliver a platform for product quality assessment based on evaluating metrics based on outputs from the software engineering process. In this talk I will describe the project and progress to date, present an opportunity for the KDE community at large to influence the work and discuss the wonders of Ouzo and fish cheek.
Paul Adams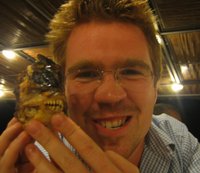 Paul Adams, born an Englishman but by happenstance brought up a Scot. He keeps himself busy by working as the R&D manager for Sirius Corporation, allowing him to spend European tax-payers' money on such activities as researching novel approaches to Open Source project quality assessment, evaluating the relationship between Agile and Open Source development practices and exploring the efficacy of Ouzo and fish in team building scenarios.
Besides work, Paul keeps himself out of trouble with a PhD in Open Source process quality evaluation and with rowing. Paul is also Chairman of the British Computer Society's Open Source Specialist Group; an organisation created to educate people in the ways of Open Sourcery.