Free software and open systems in government
Speaker: Patrick Harvie (MSP)
By investing in free software, government commissions can provide maximum benefit to the public by developing software and tools which others are free to use. Open systems encourage collaboration and improve the effectiveness of government. The school curriculum should cover the principles of open systems and free software to ensure that we are educating people to understand these concepts.
Patrick Harvie (MSP)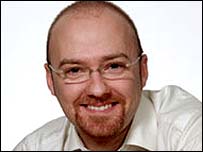 Patrick Harvie is a member of the Green Party and a Member of the Scottish Parliament (MSP) for the Glasgow Region. He is an advocate of Open Source and Free Software, and a Linux user.